MVgo Program


MV residents can benefit from the local MVgo program, purposed in an effort to reduce traffic on our streets for the benefit of the community.

MVgo's shuttle is a fare-free public service which provides transit from the Mountain View Transit Center to various locations throughout the city during commute hours. The shuttle buses are equipped with bike racks and real-time tracking equipment to allow riders to track arrival. They are also wheelchair accessible.

Just a half mile away or a 10-minute walk, you'll find the nearest stop for the route shown below that goes along San Antonio, Garcia and Charleston (clockwise and counterclockwise loop).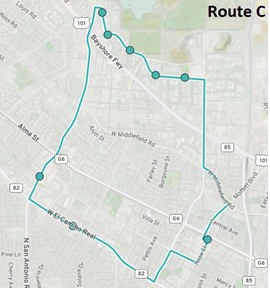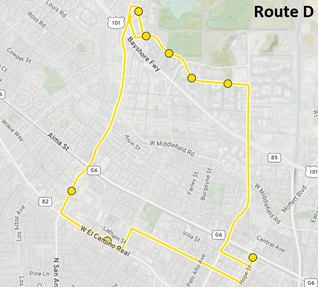 Additionally, MVgo has partnered with Waze Carpool to offer a $5 subsidy on all carpool trips for people commuting to or from Mountain View. Planning a short trip to Googleplex, Stanford University, or Shoreline Amphitheatre? All trips within 10 miles are free to riders!

For more information, please visit MVgo.